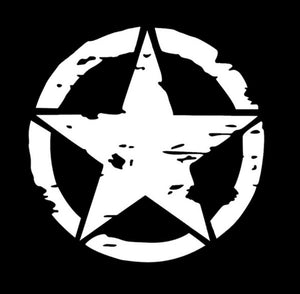 IGOTYOURSIX247
Star decal
Regular price
$5.99
$0.00
Unit price
per
Tax included.
You are Buying
Self Adhensive
with No Background at all
Covered with removable Transparent Transfer Tape for Easy Application
100% Waterproof, Solid Color, No Ink
Long lasting 3+ year life expectancy for outdoor & 5+ indoor durability or more.
Size: Normally, the size is 6", Choosing other sizes,Please send me message first.
Colors: Many colors are available, Solid 1 or 2 color per order, if you need more colors, please contact with us first.
Decals stick to almost all flat surfaces! just peel and stick!
Decorate Your Car, Windows, Bumpers, Motorcycle, Bicycle, Scooters, Guitars, Pad, Phone, Laptops, PC ( Personal Computers), Lugguage, Suitcases, Walls, Refrigerator, Home Appliance, just about any flat smooth clean surface!
Order Instructions:
Select Size, Select Color, Quantity and place an order
About Vinyl Decals:
Vinyl Decals come in 3 pieces:
1. Top layer is a transparent transfer tape. (Holds your decal or sticker together until it is applied)
2. 2. Middle layer is your actual decal or sticker. (It is sandwiched between the Application Tape and the Wax Backing)
3. 3. Bottom layer is the paper backing. (protects the adhesive until the decal is ready to be applied)
4.
5.
6. Background:
7.
8. These are DIE-CUT decals mean that there is no background.
9. The background color will be the color of the surface you place the sticker on, or clear if you put it on a window.
10. Will ship pre-spaced and ready to apply, letters are not individual
Note:
Installation instructions ship with the decal. If you have any questions, send us a message
How to Apply:
Step 1
Clean and dry the desired area. Stickers will stick best to clean smooth surfaces.
Step 2
Rub over with a plastic card, to ensure all parts of the sticker are sticked to the application tape
Step 3
Turn the sticker over with the backing paper on the top. Slowly peel off the backing paper from the sticker. Ensure all parts of sticker are on the application tape.
Step 4
Place the sticker to the designated area. Make sure this area is clean and dry. Use the plastic card, make sure you rub the whole area of the sticker well.
Step 5
Peel off the application tape. Start in one corner and slowly move to the opposite site.Make sure that all parts of the sticker are sticked to the designated area.
Job done. Good luck.
---
Share this Product
---